Inside China's massive Xige Estate winery
来源:Chris Boiling 西鸽酒庄
The goal is to make 6-7 million bottles of fine wine here every vintage. How has the winery been set up to do this? In part 2 of our interview with founder Zhang Yanzhi, he covers the estate's 'biggest strength', their bestseller in China, 'smart agriculture' and their 'state-of-the-art' equipment…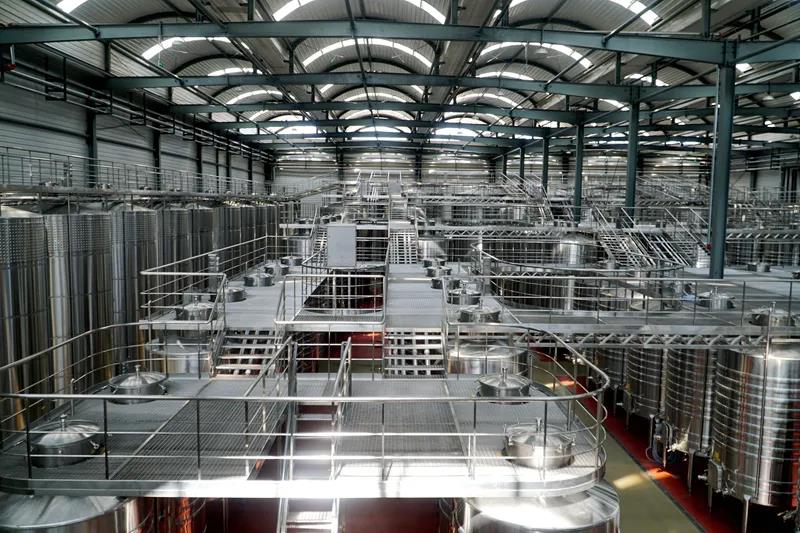 Inside Xige Estate's winery – one of the world's best equipped and most amazing wineries
"Xige Estate is the winery with the most advanced winemaking equipment in China." That's claim of founder Zhang Yanzhi (below).
He believes having the latest equipment from Europe and New Zealand will help the 25,000sq m winery – in China's northwest wine region, Ningxia – produce 6-7 million bottles of fine wine each vintage.
"Workshop B is our Fine Wine production workshop. It currently has a total of 111 fermentation tanks of different specifications, from 1 ton… to 60 tons that we use for single vineyards and single varietals selection," he tells Canopy in the wide-ranging interview below. "We also have 120- and 180-ton tanks that are used for wine storage and blending in order to ensure the consistency of quality, flavour and style of each batch of products and vintages."
The estate launched in 2019 with more than 1 million bottles from its 2017 vintage, selling them all in a year – and during the Covid-19 pandemic.
Zhang says they recently signed a contract to purchase 1,000ha of new land to expand the estate's vineyard holdings, giving them more than 2,300ha of vines in total. Some of these vines are the oldest in China…


Canopy: You have some of the oldest vineyards in China, but they are still relatively young – what is their potential?
Zhang: "In the area of the Dove Mountains in Ningxia Wine Region, Xige Estate currently has 1,300ha of planted vineyard, including an exclusive 1,000ha of 23-year-old vines, and over 300ha of newly planted vines along the bank of the West Dove Lake since 2017.
"I suppose that people would indeed wonder if '23 years old' can actually be old enough to be marked as 'old vine'. I admit just speaking about age, they are indeed relatively young in comparison with vines planted in some old wine world countries and areas. However, talking about China, such a large scale of planted vines of that age is really a very rare resource considering that vines over 10 years are already quite hard to find in the country, so you can imagine how much harder it is to find vines over 20 years old here, so 1,000ha of them, well...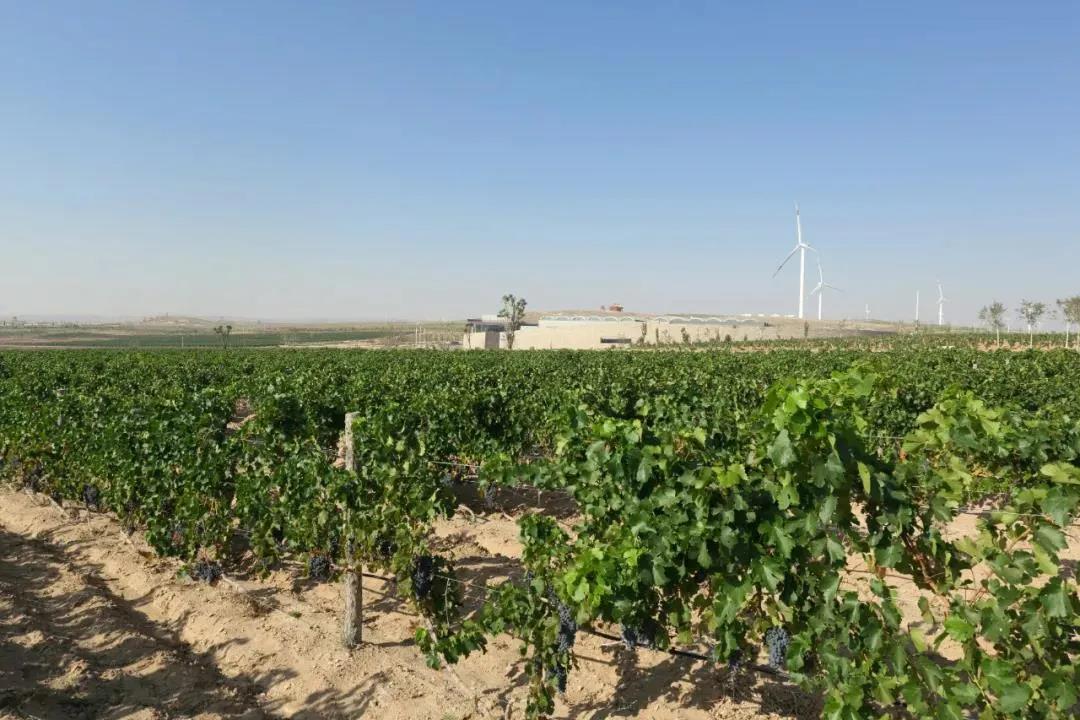 "Earlier this year, some of our wines were reviewed by Edward Ragg MW, who is in charge of China for Wine Advocate. Seven out of nine products from our first two vintages (2017 and 2018) were scored over 90 points, the other two 89 points. He has mentioned something very interesting, I think: "Xige's older vines – 20-year-old plants qualify as 'old vine' material in Ningxia – but it may be that the rigor of selection trumps the nominal old-vine element." So, I agree with what he said, the quality of our old vines is indeed very promising and might play a great part in the quality of our wines, but so does our work in the vineyard and the cellar. But having older vines surely gives us the best possible start.
"As we like to say, a good bottle of wine comes mostly from good grapes. We have a saying: "70% of the quality of a wine comes from the grapes (and the vineyard management and work) and 'only' 30% comes from the winemaking techniques and work." Therefore, with 23-year-old vines, plus the labour, the time effort and the equipment we invested in, we are very confident about how our wines turn out. So those 23-year-old vines can be seen as relatively still young in the world, but also relatively old in China. Being the only winery with such a large scale of over 20-year-old vines, we believe it gives us a real step ahead in producing fine wines in China as we were able to offer great wine quality since our very first vintage, and a quality that keeps improving with every vintage, so we do believe that those 'old vines' are actually our biggest strength on the market now.
"Besides, as I have mentioned before, we also planted over 300 hectares of new vines. More than 20 varieties including Malbec, Syrah, Marselan, and Dunkelfelder among others were planted in this area. We also cooperate with some local and national research centres and wine schools' research programs aiming to experiment and study the growing situation of these new varieties to find out which ones have the best potential to adapt, grow and flourish here, like the Cabernet Gernischt (Carménère). It was mostly planted in Shandong area and known in China to be quite a bad grape with a not-so-charming green character. But we have found this variety in our old vineyard and discovered that it has adapted very well in the Ningxia Eastern Helan Mountains' terroir, and now our Jade Dove Single Vineyard Cabernet Gernischt is really popular among consumers and is one of our bestsellers!
"So, in such a young wine region, we still need time to experiment and to get to know more of our terroir in order to keep on improving both the quality and the style/character/personality of our wines. But as you can see, we are also very dedicated into doing this work."
Please explain your 'smart agriculture' in detail – what it is, how you use it, how it helps, etc…
Zhang: "Smart agriculture is based on the internet and a big data management platform, real-time monitoring and display of meteorological and soil parameters, like the humidity, temperature, light and other growth factors of the vineyard. Our vineyard management team can check at any time through the display screen, mobile phone and other tools, which provides more scientific guidance for the professional and accurate agricultural decision-making for the vineyard manager.
"The vineyard of Xige Estate covers an area of 1,300ha, and there are obvious differences in soil types and microclimate in many blocks over such a large scale, and even inside one block. The introduction and application of smart agriculture provides us with scientific support for the differentiated management of our vineyard based on different terroir conditions. It helps us to improve and maximise our effort to manage the vineyard and get to know much better the local terroir(s). On the other hand, it also provides a basis for our product traceability.
"We are the first winery in China to introduce the smart agriculture system, but the monitored data and resources can also be shared with all the wineries in the region. It is an important part of Xige Estate's commitment in contributing to the improvement of the quality of the wine in the entire region.
"The smart agriculture management system has been developed in cooperation with the Northwest Agricultural & Forest University from which both myself and our chief winemaker (Liao Zusong), and also many people from our team, have graduated. It is the earliest and one of the best viticulture and oenology schools in China."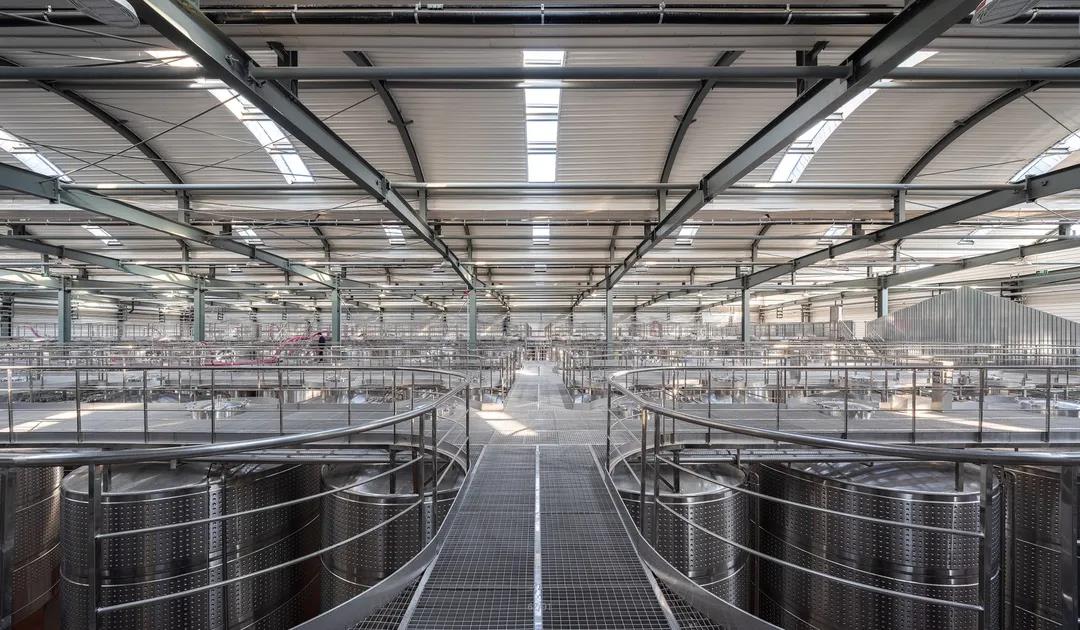 Tell us about the advanced equipment in your winery – what is it, how does it work, where is it from?
Zhang: "Xige Estate is the winery with the most advanced winemaking equipment in China, including the customised fermentation tanks with proprietary intellectual property rights that are using an intelligent temperature-control system from New Zealand (VinWizard); advanced bottling line from Italy (GAI); thousands of French and American oak barrels and casks and many other different winemaking equipment imported from France and Germany, which are all required to make large production volume while ensuring the high quality of our wines."

1. Customised fermentation tanks
"Some of our fermentation tanks are customised in a cone shape in order to facilitate the evacuation of grape must that can slide down freely and so decrease the labour costs."

2. VinWizard – fully automatic temperature-control system
"In our fermentation workshop, we introduced the New Zealand VinWizard fully automatic temperature control and automatic pumpover system. This technology is achieved by wrapping the whole body of the tank with a Miller board, which helps to raise or decrease the temperature in a short period of time. At the same time, each tank has multiple measuring points to monitor the temperature in real time. This data can accurately monitor the real-time temperature of the measuring points distributed in the tank body through the display screen to achieve precise temperature control. Besides, it can realise the operation of remote control of temperature and cycle by our winemaker's mobile phone. With the help of sciences and technology, we can pursue high quality while producing high volume. The whole process has laid a good foundation for the winery to make fine wines."

3. Winemaking workshops' flooring and drainage system
"The winemaking workshops have been equipped with polyurethane flooring imported from Germany which has the function of anti-slip, pressure resistance, acid and alkali resistance and easy cleaning, helping us to keep perfect cleanliness in the production areas. We have invested also in a German ACO-grade steel drainage system."

4. Winemaking equipment
This includes:
Pellenc destemmer from France – "for a gentle separation of foreign bodies and sorting with a processing capacity of 10 to 20 tons/hour".

Vibrating feed table from France to increase feeding speed.

Pellenc crusher from France.

Europress airbag press from Germany – "that has a much larger press load than conventional airbags and is more efficient during press processing".

All kinds of pumps from Padovan in Italy.

Advanced bottling line from Gai in Italy.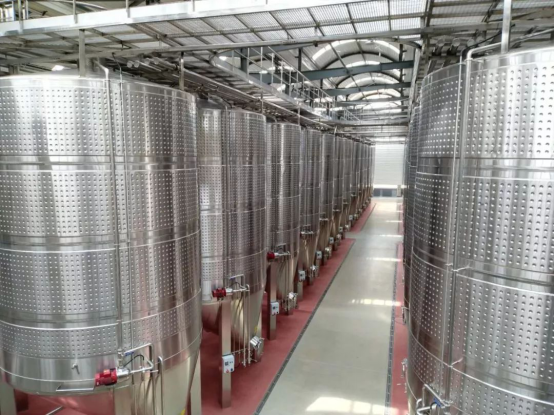 Tell me about your tanks, barrels, etc…
Zhang: "We have two fermentation workshops at Xige. Workshop A is the main fermentation area for the wines that produce the most volume. We have 52 fermentation tanks of 40 tons and 52 of 60 tons, which are all cone-shaped.
"Workshop B is our Fine Wine production workshop. It currently has a total of 111 fermentation tanks of different specifications, from 1 ton, to 7.5T, 10T, 15T, 20T, 30T, and 60 tons that we use for single vineyards and single varietals selection or for different winemaking techniques accordingly to the volumes we have and what we actually want to do. We also have here 120- and 180-ton tanks that are used for wine storage and blending in order to ensure the consistency of quality, flavour and style of each batch of products and vintages.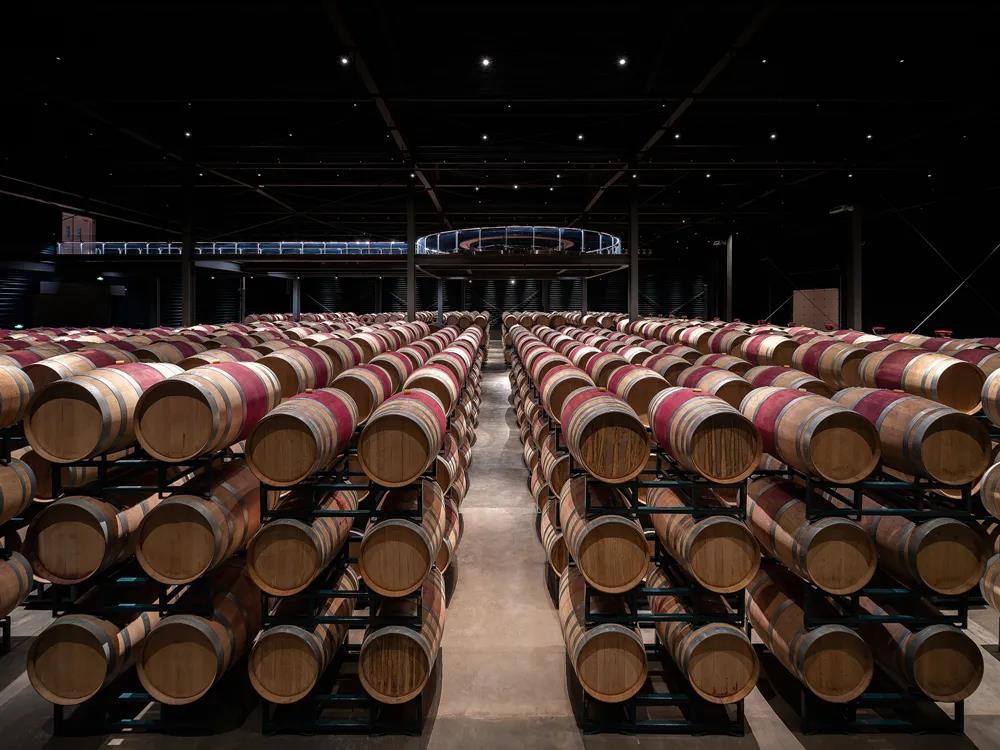 "The Oak Barrels Cellar is on the same floor as the production workshops and bottling line in order to ensure efficiency and to avoid mould pollution. We invested instead in an advanced automatic temperature and humidity control system, with a high-pressure micro-mist humidification system that can spray 5 billion small fog beads every second to ensure the most suitable humidity in the barrels cellar while ensuring perfect cleanliness. The humidity is permanently around 70-75%. The temperature of the cellar is maintained at around 14-16°C all year round.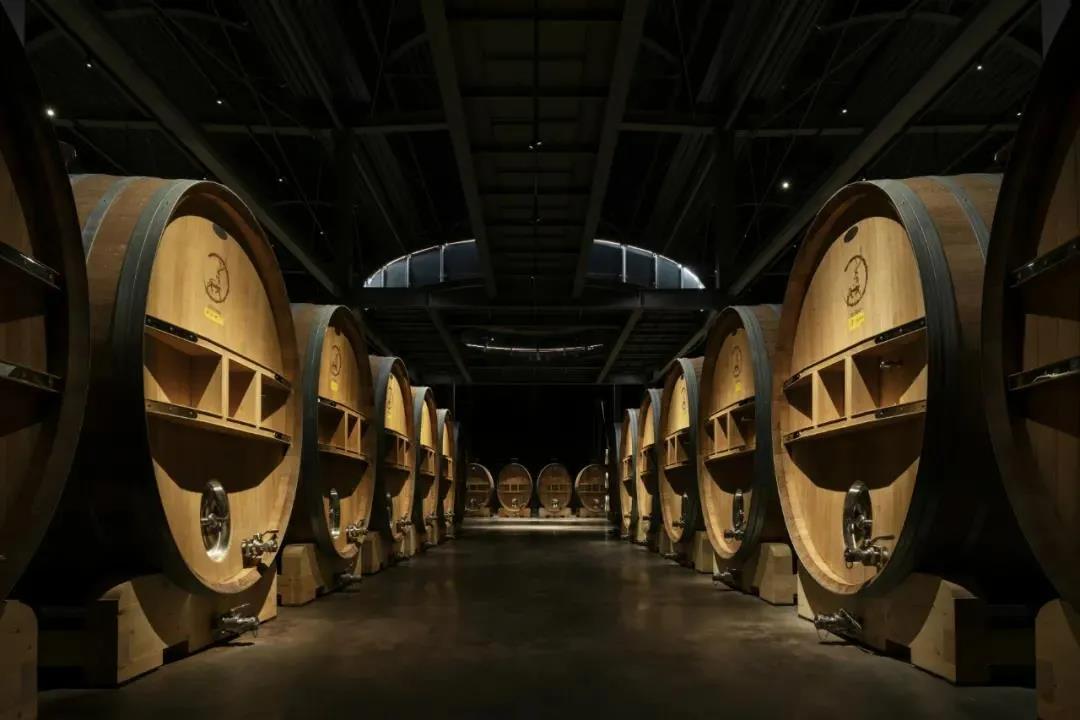 "The cellar has about 3,000 barrels, 90% of which are imported from France, and a small amount is also of American oak. We are the first winery in Ningxia to use mostly 300L oak barrels that can fill about 400 bottles. Compared with the traditional 225L, the 300L oak barrel's ageing process cannot only prevent the wine from over-oxidation and prolong the wine maturation process, but they are also very beneficial for the preservation of the fruity aroma of wine to avoid over oaky style. We only use our barrels twice. But we do also have 225L and 228L barrels in smaller quantity.
"Apart from those, we also have 28 pieces of 5-ton horizontal oak casks, which can fill close to 7,000 bottles of wine. These large oak casks are mainly used for wine storage, helping to reduce the contact between oak and wine and making fresher and more fruity wines."

Finally, as regular readers of Canopy know, I have a special interest in Italian Riesling (as it's the grape I grow in Slovenia) – tell me about your vines and why you only use this variety in blends.
Zhang: "Italian Riesling was planted early in Ningxia, at the earliest period of the vine-growing development in the region over 20 years ago. That's why we have this grape in our old vineyard (Block 2 and 3) which is already 23 years old and other wineries have some too. It is quite a common grape for white wines in Ningxia, with Chardonnay.
"All the grapes planted 20 years ago were imported from foreign countries, mostly France but also others, but we don't know from where exactly this Italian Riesling comes. When it was planted back then people were not as experienced as they are now and they encountered some problems and, it seems, they ended up mixing a few white grape varieties in the same vineyard: Chenin Blanc, Chardonnay, Ugni Blanc and Italian Riesling (elsewhere known as Welschriesling, Graševina, Laški rizling and Olaszrizling). Fortunately for us, in some of our vineyard blocks, we can identify that it is mostly Italian Riesling that has been planted.
"In 2017 (our first vintage), because of the rain in August, in order to control the cost of production at the very beginning of Xige's development when we were still building the winery from scratch (building of the 25,000sq m winery started at the end of June 2017) and also because we didn't want to have too many white wines in our portfolio (China is still very much a red wine market) and because the volume of white wine production is quite small in comparison with reds at Xige, we chose to blend the few different white grapes that we have. It has actually resulted in a very nice white wine blend with a lot of personality that is now our Jade Dove White.
"In 2019, we had lower rainfall than previous years and we have harvested close to 30 tons of Italian Riesling grapes alone, so we have decided to experiment on making a single varietal from this grape to check its potential. But the result was not promising enough for Italian Riesling to be integrated as a single variety wine in our Single Vineyard range of products for which we have high quality expectation (one white under this range for now, Chardonnay, and two reds: Cabernet Gernischt and Cabernet Sauvignon). It was also added to the white wine blend in 2019."